I am so excited to have the lovely Charlotte from
Make, Do, & Friend
guest posting today! Charlotte loves messy play just like we do, and I can only imagine how much fun her and I would have getting messy with our little ones if we lived closer.
*************************************************************
Hi, I'm Charlotte and I blog over at
Make, Do & Friend
where I share creative play ideas and fun with my 2.5yo son Vincent. I'm soo excited to be sharing over here at Growing a Jewelled Rose, I know Crystal and her girls love bathplay so I'm guessing you guys do too!
I don't know if it is a boy-thing to hate bathtime, but Vinnie does (also not keen on face wiping, nose blowing or handwashing!) - but he will happy paint for hours. I thought we had found the perfect compromise when we made
shaving foam bath paint
- but the foam left the water grimy and my kiddo smelling like an aftershave counter and I had to wrestle him back in for a second shower!
So I came up with another option, using bubble bath and food colouring. The mixture was runny so I stirred in some cornflour to thicken it up - I later googled this and realised that this wasn't as original as I thought, but this recipe is what I came up with:
1. Fill up your container (we used a plastic shot-glass holder - because when would I ever get an opportunity to drink actual shots?!) about half full with a clear bubble bath/baby shampoo
2. Stir in 2tbsp cornflour - the mixture gets thicker as you stir so keep going to make sure it's fully incorporated
3. Add a few drops of food colouring, we started off with pastel shades and just kept adding till we got a colour I liked
4. Run a bath!
We made the mixture in the middle of the day so it sat in the bathroom for a couple of hours before bathtime and needed an extra stir before we used it. Then paint away...
I like to think of this as the self-cleaning bathtime - the walls, bathtub and Vinnie got painted, then it rinsed clean and he smelt lovely afterwards!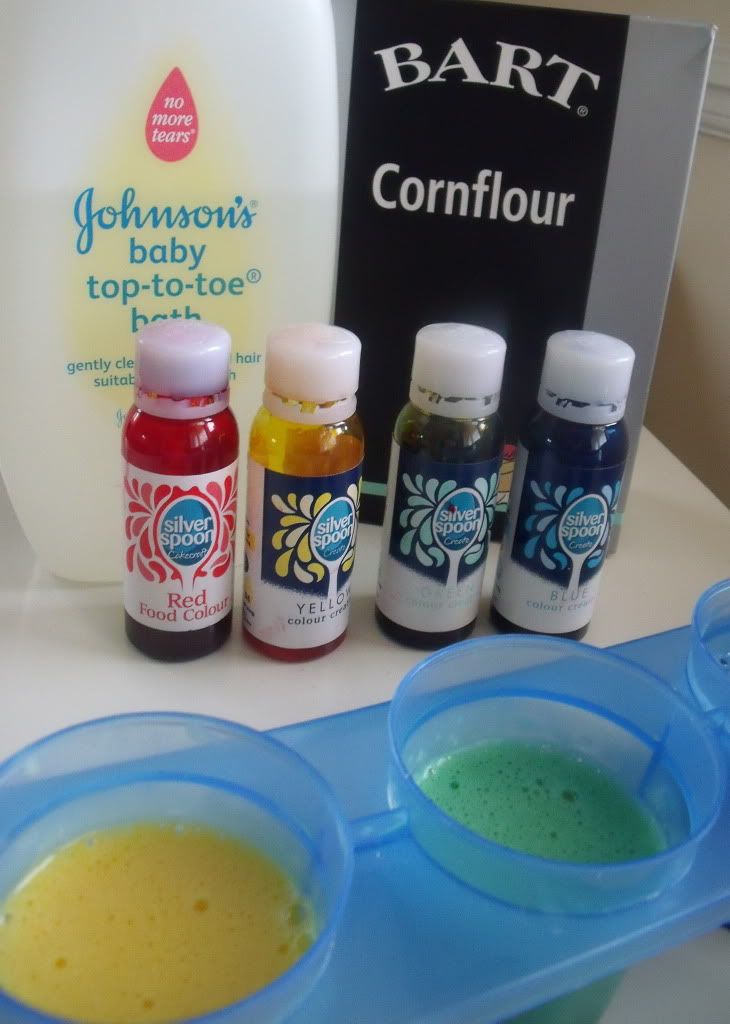 So there you go friends - super quick bathtime incentive for reluctant bathers! How do your kiddos like to play in the bath?
-------------------------------------------------
Charlotte is a twenty-something mum to Little Vin, early years childminder, playdough maker and believer in the power of playdates. Check out the fun over at
Make, Do & Friend
, on
Facebook
,
Twitter
&
Pinterest