I am thrilled to have my good friend Rebekah from
The Golden Gleam
guest posting on Growing A Jeweled Rose today!
I just love the messy fun of the activity she is sharing too!
Take it away Rebekah!
~~~~~~~~~~~~~~~~~~~~~~~~~~~~~~~~~~~~~~~
I'm thrilled to be guest posting here on
one of my favorite play blogs for babies and toddlers
. I'm Rebekah, and I blog over at
The Golden Gleam
.
Y
ou may recognize me from
the Messy Play in the Bath and Sink Series.
I share the sink ideas, and, of course,
Growing a Jeweled Rose creates the bath activities.
This post will take us out out of the bathroom and into the backyard with
lots of messy, creative fun.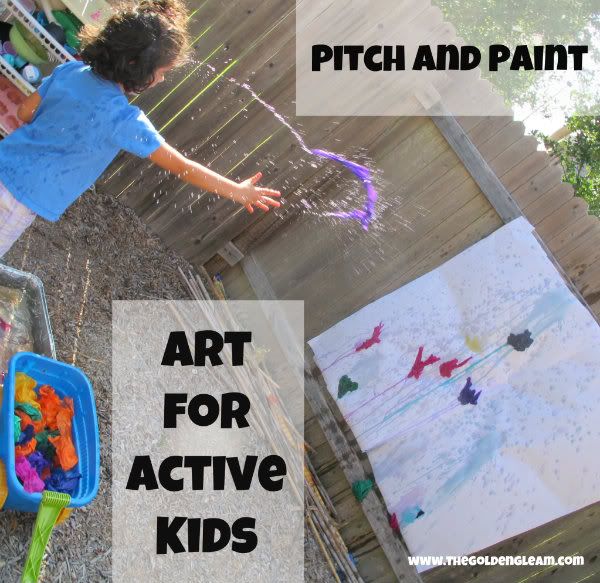 throwing bleeding tissue paper art is the perfect activity for the high energy child.
All you need is
bleeding tissue paper
, a tray of water, and butcher paper. A heavier paper like poster board, cardboard, or even an old sheet will withstand the water better than butcher paper. Staple or tape the sheets of paper to a fence or outdoor wall. Please test an area to be certain the tissue paper will not stain your fence. It didn't stain my fence but I can't guarantee it won't stain your fence.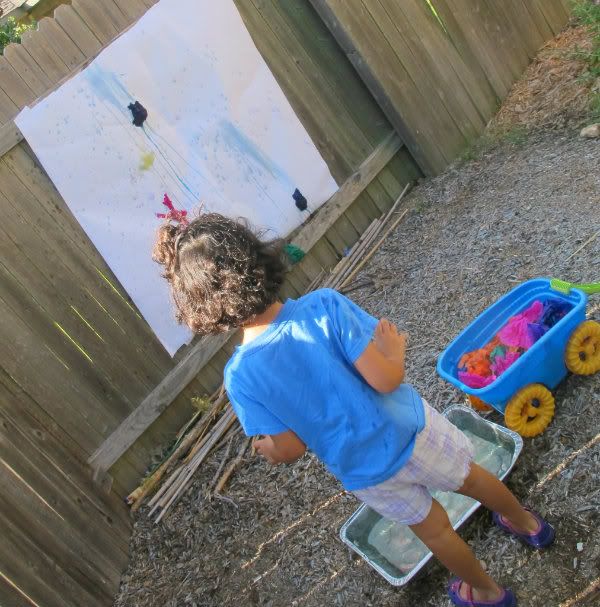 Place crumpled sheets of bleeding tissue paper in one container and a tray of water in another container. Put tissue paper and water a few feet in front of the butcher paper. Model for your child how to dip the paper in water and throw it at the butcher paper.
Step back and allow your child to have fun creating pitch and paint art.
Once finished, remove the tissue paper to reveal your child's
artistic masterpiece
.
To extend the fun
, gather all the used tissue paper and dump it in the tray of water. Add figurines to explore the soggy, colorful mess for
imaginative play.
Kids love throwing things and playing with water, and
this is a wonderful way to combine art with active play.
~~~~~~~~~~~~~~~~~~~~~~~~~~~~~~~~~~~~~
You can find Rebekah and her preschool daughter getting messy, having fun, and learning together at her blog,
The Golden Gleam
. Don't forget to stop by The Golden Gleam's
Facebook page
, and like it to continue to follow more of her ideas.