I have had
many readers ask me to put together a list of toys I would recommend for Christmas.
Some also asked that I break the list down by age. So here I have gathered my
top
toy recommendations for babies
.
The Best Toys for Baby
Plush Color Sorting Set-
this plush color sorting set is great for baby in that the pieces are soft and can be washed. Baby will delight in emptying and filling the varying containers, and as baby grows, the set will be able to be used for early learning concepts like color sorting and math.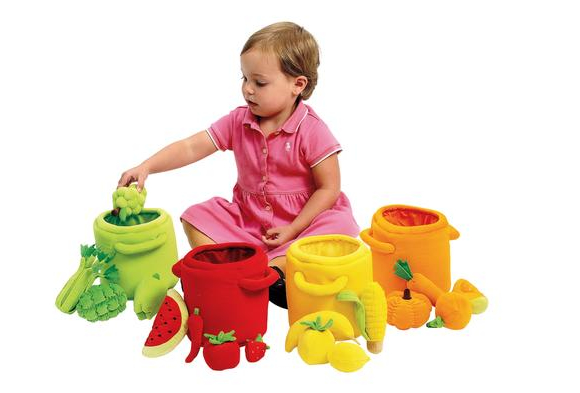 Vulli Sophie the Giraffe Teether
- Both Rosie and Jewel loved this teether as babies. It is made from 100% natural materials and is

Phthalates and BPA free

. Not only did it become a lovie for both of them, but it really seemed to help soothe their teething gums too!
Hohner 5 Piece Music Band
- Letting the littlest of littles explore with music and sound is quite beneficial and this music band set allows them to do just that. The instruments are safe for babies and the three musical shapes are just the right size for little hands. As soon as baby can grasp an object they are ready to explore with this set. However, the set will grow with your child for a while. Rosie still enjoys making noise with this set.
Hand Puppets
-
Oh my, do babies love puppets!
My little ones sure did and still do! Puppets are a simple and fun way for parents too interact and play with baby and will grow with your child for years. Rosie and Jewel will play with their puppets well into their elementary school years. We have been slowly adding to our puppet play collection.
Hape Pound & Tap Bench
Babies love pounding the balls through the holes to create music. The xylophone also pulls out for individual play. Great for exploring rhythm and melodies.
Melissa & Doug Toolbox Fill and Spill
- Melissa and Doug make a variety of fill & spill toys, all great for babies. During the filling, dumping, and sorting stage, baby will delight in putting all the tools in the toolbox and then dumping them back out again... and again. The drill vibrates, adding another fun element to play and exploration. The plush toy set is also made of only the best materials,
high quality fabrics and Phthalate-free plastics.
Playskool Explore and Grow Busy Ball Popper
- Rosie and Jewel still love this toy! However, it is especially great for babies beginning to crawl. As the balls pop around the room, baby will delight in crawling after them. If baby is not quite crawling , this toy will entice movement. Little ones delight in chasing the balls and putting them back into the popper over and over again. The ball popper plays music too! My girls LOVE this toy!
Busy Town Play Cube
So many ways for baby to explore!
Includes curvy wire rides, peek-a-boo doors, spin and match animals, turn and learn ABC word tiles, and racing vehicle rollers
Wonderworld Ride On Zebra
This wooden ride on toy can also be used as a walker. The seat lifts up to reveal a secret compartment which baby will delight in taking things in and out of...... over and over again. A great first riding toy!
Magica Rattle
- this baby rattle is unique in that the balls move around on a stretchy cord, allowing for baby to explore in more ways then just a traditional rattle would allow. The balls are just the right size for tiny hands to grasp which in turn, develops hand muscles. The toy is bright and appealing and very well made.
Haba Animal Den Soft Ball
- another fantastic toy from Haba- this peek-a-ball. The animals hide within the ball and can be pulled and stretched. The ball has a variety of tabs and textures and crinkles when squeezed, making this a great toy for beginning sensory exploration. It is machine washable too- always a bonus!
Bright Starts Lots of Links- Solid Colors
- these links are fantastic. There are so many ways to use them and they are so very inexpensive. They are great for baby to teethe on. They can be linked together and hung from toys, high chairs, shopping carts, car seats and more. During tummy time, baby will delight in grabbing and pulling the links which is great for fine motor development, hand eye coordination , and tracking.
Sassy Developmental Sensory Ball Set
- this baby ball play set is great for sensory exploration. Baby will delight in grabbing, teething, and as he develops, crawling after these balls. Each one feels different to the touch, making the set fantastic for sensory exploration!
Crayola Beginnings Baby 20ct Jumbles
- these make a great first building set for baby. They are the perfect size fir tiny hands and can be connected and stacked easily. Both Rosie and Jewel still enjoy playing with them. Once your child is a toddler, they can be used for color sorting, maths, in color themed sensory baths, and as part of a variety of other learning activities.
Plan Toy Baby Walker
- there are so many baby walkers but not all are created equal. This walker is made from
all natural organic recycled rubber wood.
It has a specially designed handle that can be adjusted to different heights as baby grows.
This helps guarantee stability and safety as baby takes his first steps.
Another bonus- it includes colorful, all natural blocks, giving you two toys in one.
Mirror Climber
This climber provides the perfect place for baby to explore. The entire surface is soft and plush so there is no worry of injury. The mirrors are shatter proof and babies LOVE looking into them. Great fro beginning climbers; builds physical strength and fine motor skills
A Play Tunnel
What I love about play tunnels like this one is that it grows with kids for a long time. Rosie began using her tunnel as soon as she could crawl and she still uses it now; a great way to keep kids active indoors!
Manhattan Toy Skwish Classic
- this is such a fun toy even I have a hard time putting it down. Baby can squish and bend this ball in a variety of ways and the ball will pop right back to it's original shape. It has movable beads and is great for teething. Just looking at it fosters the imagination!
Melissa & Doug Shape Sorting Cube
- sorting cubes make a great toy for baby, allowing for simple discovery and manipulation. Melissa and Doug make high quality, wooden toys that will last!
Mirror Blocks
- Mirror blocks are another great way for baby to discover and explore with mirrors. Baby will delight in playing peek-a-boo while also being able to grasp, stack, and knock these blocks down. Once baby is older, these blocks can be used for light play and exploration.
Haba Jonathan the Rattling Caterpillar
-
this toy offers vibrant colors which captivate baby. The wooden discs can be clapped together to make noise or "music" There are a variety of ways to manipulate and pull the toy too. Great for keeping little hand busy and babies occupied. Hang it from their car seat to distract them on car rides.
Color My Bath! Color Changing Tablets
- these tablets magically change bath water.... SO FUN for babies (and kids of all ages). A great way to teach little ones their colors, too!
Hohner Kids Rainmaker
- I LOVE this toy! Not only is it great for babies but for toddlers too! It is fun and colorful and makes the sound of rain every time it is turned. Not only does this rainmaker stimulate the sense of sound but also the sight. Watching the beads cascade along the inner walls is very captivating.
This is still a loved toy by all, mom included.
Shatter Proof Mirrors
Babies seriously LOVE mirrors! We had one of these set up for Rosie to do tummy time, and she just loved it. We now use our shatter proof mirror in our dress up play area. Baby will laugh and giggle with delight as they play with their mirror friend. Mirrors are a great way for kids of all ages to explore and discover.
Laugh & Learn Puppy
This is one baby toy that still gets played with almost daily in our home. I will always cherish this toy, too. Whenever I hear the songs it plays I am transported back to when Rosie was 6 months old.
LeapFrog Fridge Farm Magnetic Animal Set
- Both girls loved this toy as babes. Once they were mobile, they loved crawling over to the fridge and taking the pieces in and out to make the animal noises.
Great first exposure to magnetism too.
Intex Play n' Learn Baby Pool
-
Pools are not just for Summer- not at all.
If you follow Growing A Jewel Rose you may know that
we do a lot of sensory play
. We have shared
lots of sensory play activities
for babies and baby pools like this one make that exploration so simple and easy. This pool is easy to blow up or take down. It can be wiped clean easily and does not take up much room in the home. Great for sensory exploration, to make a ball pit, simple water play, first finger painting, and so much more. For lots of ideas that could be used in regard to this pool, be sure to check out
our baby sensory play collection.
Plan Toy Punch and Drop
- this is such a fun toy for babies who are sitting up. Baby will delight in putting the balls in the holes, hitting them or even just pushing them through, and then watching them reappear on the other side. Jewel still sits and pushes the balls through the holes over and over again.
Books, Books, & more Books!
It is never to early to start reading to baby. My babes always enjoyed more interactive books like lift the flap, touch and feel, and pop up varieties. One of my favorite authors for very young children is Karen Katz
I wouldn't want to end this list without including
a few toys that facilitate the arts.
However, you really don't need any toys for this.
Baby can begin exploring artistically as soon as she can handle solid food
. One way is to make a simple edible fingerpaint using yogurt and food coloring. Little ones love painting with this paint while also having a healthy snack (they will eat it of course) You could also use pudding or even just pureed baby food. As for the canvas, the highchair top works great and can easily be wiped clean. Another option is to put some yogurt in the play pool above and let baby explore freely with just a diaper on, giving them a full body sensory experience. Have a camera on hand- great photos will ensue.....